Today, purchasing online is accepted by many, but if you look across categories of purchase, there are some sectors where there is still reluctance to buy online, so it has become a necessity for  online retailers to continually improve on their tactics to encourage online conversion of clicks to actual purchase.
Below is a chart from a research that was done a couple of years back, this research is still very valid today as it addresses the core reasons consumers choose to shop online.
This research is an important tool any online retailer can use to shape his/her business module to get better results. This chart below also illustrates key important areas to improve sales, like free shipping offers.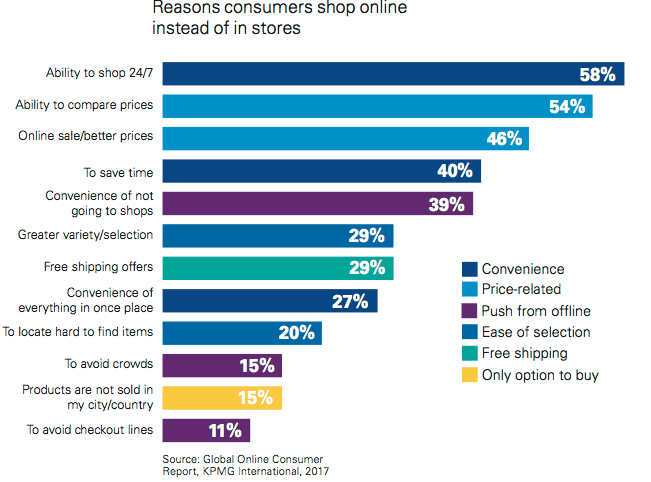 Getting to understand the hindrances and challenges facing online stores is also a very important part of having a breakthrough, this is why we have also include a chat below showing reasons consumers prefer to shop in-store.
It's also useful for retailers to consider the drivers for offline purchases since this suggests how online merchandising techniques like interactive product shots can help with the need to see/touch/try the product and also improving on delivery can help cut down the fears of consumers.

This also shows the importance of the trust factor and it is still important to reassure the credibility of the supplier and possible provide human-assisted options online.
These chats are both vital to the success of any online shop, so as such, we advice every of our vendors to take these into consideration and make necessary adjustments!